Guide
for
visiting
kayakers
Guide to Paddling from Dartmouth
We are asked quite often to advise those visiting the area about the best paddling opportunities here, where to park cars, where to launch etc so we have put together this paddlers guide.
Dartmouth Itself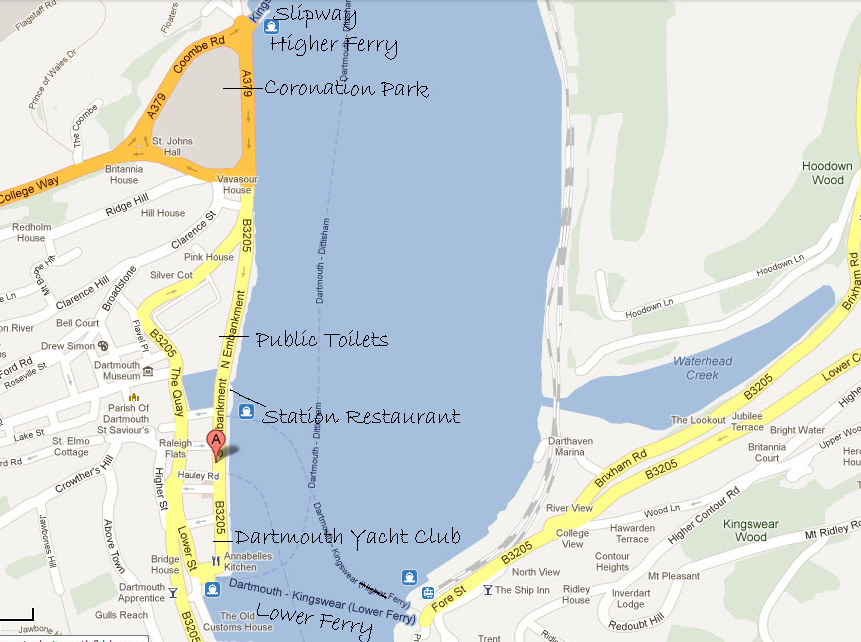 Parking dominates logistics here. One useful locals tip is that around 4-5pm lots of tourists leave Dartmouth and head off home to Torbay. So if you arrive just at this time you will easily find on road parking (in theory with a 2 hour limit) along the sea front. In practice you can leave the car in these spaces for ages because the 2 hour time limit restriction ends at 6pm. Hence even in the summer you can have a nice late afternoon/evening paddle with no time constraints at all and your car is parked right beside the water with free parking. Take an evening picnic and bottle of wine and you are sorted. Now that is very useful information.
If determined to do a day trip you need to plan parking first. The town centre of Dartmouth does have a car park but it has a maximum stay of 4 hours so is not much use for kayakers day trips. There is a good park and ride at the top of town which can be used for all day parking. Finding on road parking is mostly impossible anywhere close to the water and it will have a 2 hour time limit even if found. It is often possible to park for free at the very top of the town and to walk down. There are special park and ride busses and also local busses to get people up and down the hill.
Coronation Park (North end of town by the Higher Car Ferry) is a grass area which has a public slipway adjacent to the car ferry. The slipway is much used for launching boats of all kinds and is often used by kayakers. Useable at all stages of the tide. Two hour parking along the sea front but often full. Kayakers may prefer to leave cars at the very TOP of the town after unloading their boats near the slipway and then to walk down Mount Boone / Ridge Hill, see map above. At the end of your paddle go up the hill using the local bus which leaves from near the Station Restaurant further down sea front (c £2 single) every 30 mins on the hour and on the half hour. The walk up is very steep and is agony if you are tired at the end of a paddle. Higher ferry slip with public slip adjacent: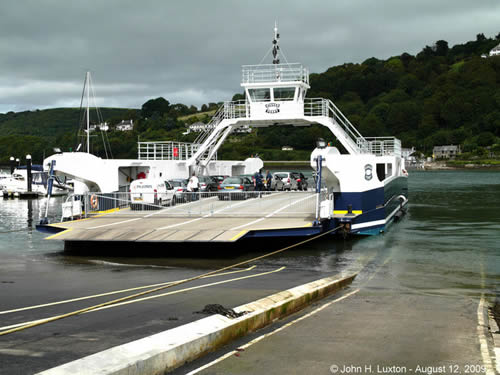 If you are a visiting group of paddlers and need assistance the writer of this guide Tim Freeman may be contacted 01803 832663. I might agree to come to you in my car at the end of your paddle and run a few drivers up the hill to their cars for instance. The club has a secure storage rack in Coronation Park and we have locked up visitors sea kayaks in it before now while they stay in a B&B - cheating I know but a shower has no price sometimes.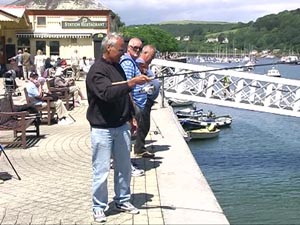 Pontoons by Dartmouth Yacht Club (see map):
Next to Lower Car Ferry at the other (south) end of the sea front are some pontoons. Good easy launch point at all stages of tide when pontoons are there (May - end Sept). Parking however is difficult due to ferry queue adjacent. Nice stopping place for those arriving by water wanting to purchase ice cream, beer or fish and chips. Beware of Lower Car Ferry reversing out of slipway close by - they do not always look before leaving the slipway so keep well away if they are loaded and might be ready to leave. These pontoons are used by our club as our main launch point. Most of our boats are stored round the back of the Yacht Club opposite Alfs (= Cafe Al Fresco). Members of other canoe clubs may incidently join a club paddle while you are here, we have lots of boats and gear. If you are a sea kayaker going along the coast you might like to stop for a shower at DYC - we have coin operated ones inside the Yacht Club that visitors can pop in and use.
Pontoon by Public Toilets (see map):
There is a pontoon in front of the towns main public toilets that can be used for short stops or for launching if you manage to park close by. It is 100m upriver from the Station Restaurant.
Warfleet Creek (see aerial photo)
nearer the river mouth on the west side is sheltered and very good for childrens kayaking. Cars can be reversed down to waters edge for launching but there is no parking. The creek is not ideal for starting day trips as the tide will probably be out when you return if its in when you launch. It is mud / stones at low water and longish carry to the car when the tide is out.
Kingswear can be used as a launch point. The creek is usable and has a nice access point at its head but it will be mud at low tide - ok as a start point if off to Brixham or Totnes but not so good if returning later. Some free on road parking at the end of the creek. There is also a marina at the entrance to the creek with a car park useable for about £6 per day that one can pay to use but its often full in the summer. Contact Darthaven Marina 01803 752242.
There is a public slipway adjacent to the Royal Dart Yacht Club in Kingswear which is just down river from where the Lower Car Ferry lands. Parking is very difficult near RDYC but this slip is often used by kayakers launching. In Kingswear generally parking is very difficult but you might just park at the very top of the hill and then do the long steep walk down.
Where to go Upriver: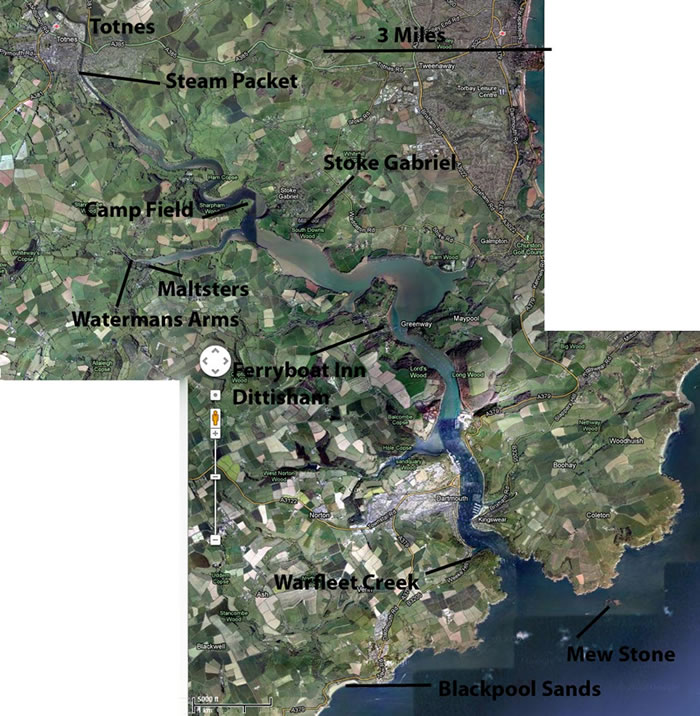 If paddling Totnes to Dartmouth or vice versa on spring tides it is essential to get the tide with you. With neap tides its not so important but still highly desirable. It is never a bad idea to choose tides that assist rather than hinder you. If you have the tide with you a general purpose kayak can make the journey in a bit under 3 hours. Sea kayaks will be faster. Canadian canoes can be very hard to manage on windy days here and should be only be used when it is wind free - also tide assistance is essential.

https://www.tidetimes.org.uk/dartmouth-tide-times
Dittisham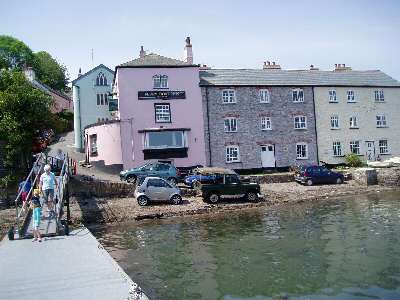 You can land at all stages of tide on a public pontoon or the beach in front of the Ferryboat Inn. Cafe and pub, both recommended but book in high season.
There is a car park! There is a small car park by the 'Ham' (a pretty grass field) near the sailing club and parking on the road above it is easy (ish) too. From here it is muddy to launch at low tide. The sailors have created a stoned walkway through the copious mud in front of their clubhouse round a bit from the carpark that avoids the mud but this does not quite cope with spring low tides and its a longish walk back to the car if you are carrying a boat.
Stoke Gabriel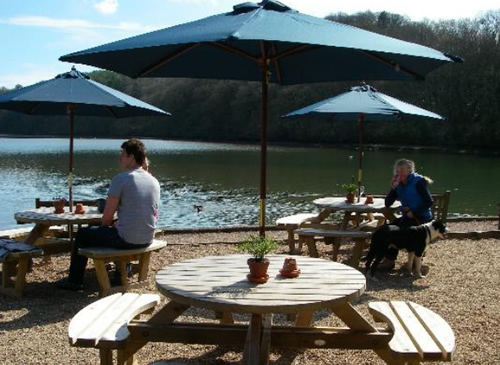 Easy to access as pontoon available at all but the lowest point of the tide. A cafe called River Shack right by the water, for ice cream but also opens for evening meals which we recommend 01803 782520. A very beautiful inner lake with ducks is formed by a causeway that is an old site of two tidal water mills. The cafe is right next to it. A pub the Church House Inn 01803 782384 is further up into village near the church and its 1000yr old yew tree which is worth seeing. There is some parking by the water.
Maltsters Arms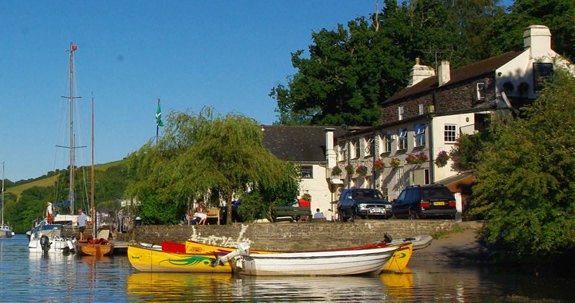 Very nice to visit for lunch if the tide is high in the middle of the day. You can use a small beach adjacent to the pub as a launch point and in practice you can park in their carpark if you become a customer by purchasing drinks or a meal. An evening visit is possible on a high tide but you will end up in the dark if trying to return to Dartmouth. Night paddles are possible on this river, the biggest risk is clattering into a yacht or large buoy without seeing it. On the return leg you will often have a spring falling tide and be travelling deceptively fast.
Watermans Arms
Visit to this pub possible on high spring tide only. Hence cannot do for lunch (as spring tides here are always 8am/8pm or similar, never at lunchtime). For an evening paddle you can usefully preposition a car in the large pub car park on a day when there is to be an evening high tide and then paddle TO the pub. Then go home by car. Not a good launch point, Maltsters much better.
Totnes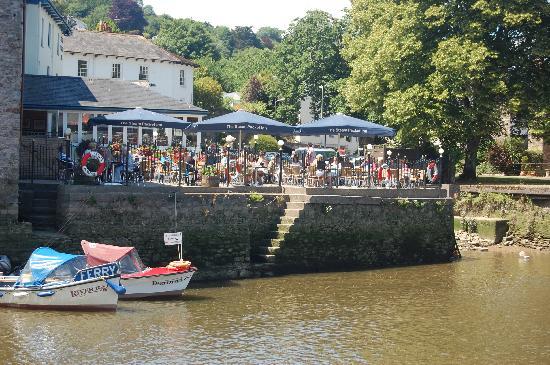 On a high tide one can visit the Steam Packet, a nice pub by water. Arriving in the evening on a high tide is nice. Parking is tricky however. One idea is to preposition a car in their very small carpark at lunchtime, then arrive by kayak in the evening and eat there for your evening meal. Or maybe get a friend to arrive by car with a roof rack to take you home. There is a biggish paying car park by the rowing club on the east side of the river which is a good launch point but its a long walk from the town centre.
Camping between Dartmouth and Totnes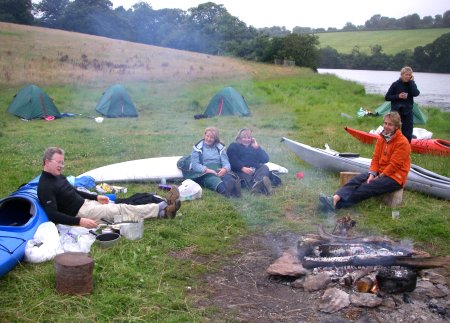 The best campsite is at Ashprington Point on land owned by the Sharpham Estate, which must be pre booked with estate office. Campsite is often used by large groups. It is opposite Duncannon near to where the river splits for Tuckenhay/ Totnes. Lots of goose poo but nice for fires, this campsite has a composting toilet in a garden shed. Accessible in top half of tide.
There is a field on the north side of Old Mill Creek near Dartmouth that is used for camping, it has no facilities. Marked as Rough Hole Point on the OS map. Permission of the farmer should be sought, he is Duncan Green of Hole Farm. Accessible in the top 1/3rd of the tide.
There is a nice field on the south side of Bow Creek half a mile into the creek (the creek that leads to the Watermans Arms) which can be used for camping with the farmers permission. The field is where the footpath from Cornworthy meets the creek, there is a timber bench in the field. The farm is half a mile up the path, Mr Hartnell 01803 732579. Field accessible in the top half of the tide. No facilities. Pub in Cornworthy close enough to visit.
Opposite the cottage below Sharpham House on the very tip of a sharp bend in the river is a get out point. Camping in the woods is possible. No facilities bar a fire pit. Owner not known but must be a farm in Aish some way away to the east.
If you are few in number, pitch a tent very late in the day and leave again early in the morning you will probably get away with camping without permission at a few other spots such as Waddeton Quarry, Stoke Point, Sandridge Point and Higher Gurrow Point, all marked on the OS map. A good plan if camping without asking first is to have some bin sacks and on your arrival clear the area of any rubbish in the vicinity. That will promote better relations with land owners should they come and try to throw you off. Do they actually own the foreshore anyway? - who knows! Don't leave any trace of your visit however tiny and maybe they will get used to such stopovers.
Coast Nearby:
Mewstone (outside river on east side)
Good for seeing seals, especially at low water on sunny days. Please don't go there on a sit on top kayak on your own with no lifejacket and no radio wearing a swimming costume. This is the SEA and it deserves a little respect for the sake of safety. The Coastwatch people on the cliffs nearby will be watching and have some lamentable entries in their log book.
Blackpool Sands (along the coast on west side)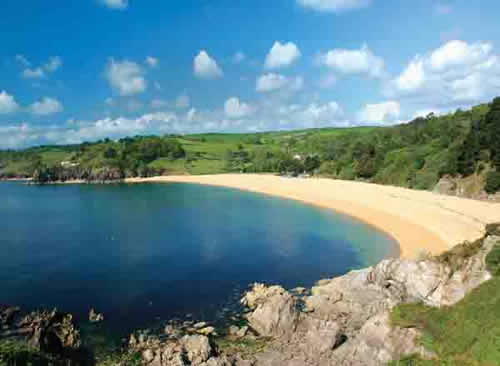 Nice clean shingle beach, blue flag water quality. Many tourists but superb on sunny evenings for a BBQ. Venus Cafe 01803 771800 serves excellent filled rolls and Danish pastries (baked on the premises). They also do good evening meals . Beware of surf - this beach suffers from seriously big dumping surf, especially if there is an east wind. Landing and launching can be very very tricky if there is a swell. Always have spare food in your boat easy to get at afloat so you can abort the landing and eat on the water if it is too rough to land when you get there. Good for parking and launching if calm, but you will pay £5 per day or more for parking in high season. They are not keen on cars being left for several days while you go off sea kayaking unless you notify them and prepay.
Brixham
Can be reached in a longish days paddle in a general purpose kayak. In a sea kayak you can get there and back in a day if fit. Nice coast with limestone caves near Berry Head. Good car park at inner end of breakwater with beach and cafe adjacent.
Beach Camping using a Sea Kayak
Sea kayakers do not often leave litter but all too often they do leave poo buried in corners on beaches thinking no-one cares or will ever find it. We find it (by smell) when we go there the next day for lunch. Bag it up, tie a knot and take it with you please. Then bin it when you next pass a bin.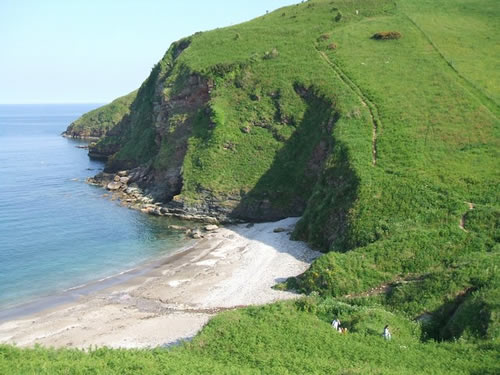 Scabbacombe Sands part way to Brixham is nice. The small beaches just south of Blackpool Sands are nice. Go for the shingle areas - they are clean and you do not get covered in sticky sand. With a thermarest the rounded shingle we have here is surprisingly comfy for sleeping on. The long shingle beach north of Torcross is Slapton Sands, its close to a fast road so too noisy at night for most. The north end of Slapton Sands beyond the road is quiet but has the occasional nudist. South of Torcross village camping is possible (you can walk back to the Start Bay Inn 01548 580553 for supper and toilets) but technically this part of the beach is owned privately so be discreet, spotlessly clean and very tidy. Beesands is quiet, with pub, and may suit those rounding Start Point the next day and needing an early start to catch the turn of the tide.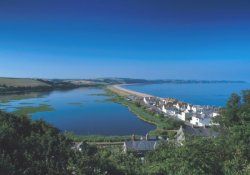 Torcross (photo above) and the lake known as Slapton Ley. You may not paddle on the lake, it is an SSSI best left to serious bird wathchers. An interesting American 'swimming' tank from WW2 in car park of Torcross is worth a stop for. It was designed to motor in to a landing beach on its own from a couple of miles out to sea, using just a skirt of material as its boat conversion equipment. Totally potty. Naturally more than a few sank. Designed for and used in the Normandy landings in 1944.
Beesands (above) is nearest looking north with small lake adjacent. Torcross and Slapton Sands are by the larger lake round the small headland. All this area is shingle and all subject to dumping surf in winter or if the wind is from the east.
This guide, written by Tim Freeman, is provided free. Any suggestions or errors please let us know: rcpaddlesports@dartmouthyachtclub.co.uk