We were not blessed with the best of weather for our 2017 programme but that did not prevent us from making the best of what we had. We managed to (almost) complete all of our intended trips for the year.
1. Torquay: 24th & 25th June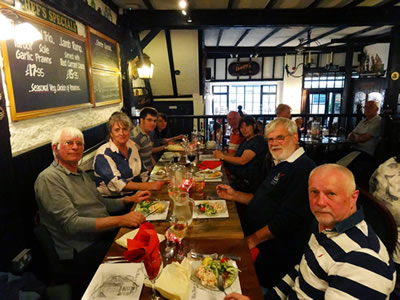 A blustery weekend with three boat making the trip to Torquay. We left early to avoid the adverse tide and arrived in Torquay in time for a very pleasant lunch in the cockpit of Daphi. A leisurely day in the town was followed by a very enjoyable evening in one of the local hostelries before retiring to our berths.
There was no need to rise early the following day as the tide would be with us in the afternoon, so it was a leisurely breakfast for all. Things went pretty well until we reached Berry Head, where we were met by a 5 gusting 6 on the nose. It was an adventurous couple of hours of wind over tide and we were glad to turn the corner into Dartmouth.
2. Guernsey (St Peter Port): 4th - 7(8)th August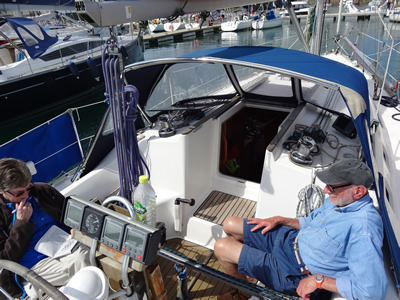 Daphi and Alestra left at first light on Saturday 5th August with light winds from the west but as the forecast predicted these picked up over the next couple of hours until we had a fresh breeze blowing over our starboard quarter. We made St Peter Port in 11 and a half hours (Alestra a couple of hours later) despite having to go around the south of the island, as the Little Russell would have been running against us. It was here that we met up with another club boat (White Mouse II) which was returning following the Classic Channel Regatta.
After a couple of days exploring the watering holes and eateries of Guernsey and Herm it was time to return, so it was we set off early on Tuesday morning for the return trip. Wind on the nose again and much further to go this time so it was a beat to the shipping lanes. The wind did start to come around to the west eventually but not before we thought it wise to motor-sail the last few hours. Giving us time to moor up at Kingswear and to catch the last ferry across to Dartmouth.
3. Salcombe: 9th & 10th September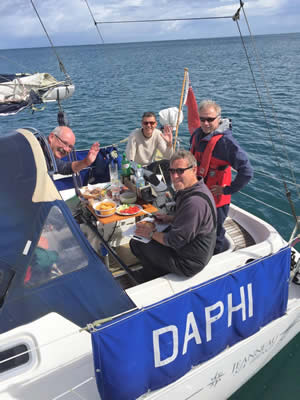 The origianal intention was Salcombe for the weekend, but the weather had other ideas. Discretion was the better part of valour that weekend and we settled for a run down to Hallsands at the bottom end of Start Bay. We managed an hour or so of more settled weather at anchor for a delightful lunch before a thrash back to Dartmouth. We finished the day with a cruisers curry at Spice Bazar. Diva even got her kettle back eventually, but that is another story.