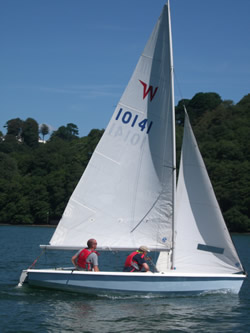 Our Dinghy Sailing Team
Tim Vaughan: Rear Commodore Sailing
Anne Walton: RYA Principal
Joe Wellerd: Chief Instructor
Supported by
Terry Phillips: lead Junior Dinghy
Christine Phillips: lead Adult Dinghy
Shirley Tonkin: support for fundraising.
Any of the above can be contacted using the contact form.
Members Sailing for 2017
The club's fleet of dinghies, Toppers, a Laser and a Wayfarer, are all stored in Coronation Park for easy access to the higher slip and all are free for members' use. We just ask that you contact us to be added to the approved user list and that all juniors have safety boat cover when sailing.
Although our
Tuesday
evening club sails have now ceased, the beautiful autumnal weather has meant that dinghy sailing continued and our Toppers are still regularly seen on the river.
Also, many thanks to the sailing club at Dittisham for inviting our adults and juniors to take part in their Autumn series. Our Juniors have had a good showing in the series which continues into December.
Though we had a slightly slower start to the season this year with Tim, our RC Sailing, off sailing around Britain and Christine and Terry, our dinghy leads, sailing back from Spain, the club is pleased to have seen the enthusiasm for and level of dinghy sailing activityes continued to grow last season.
Planning and development for next season is already underway; our priorities being to ensure we have everything in place to support more growth in both juniors and adult sailing and to make it easier for families to dinghy sail. We have a good team involved with dinghy sailing but are always looking for volunteers to help with a range of things from maintenance, co-ordination or just a pair of hands, If you'd like to be involved please contact us!
As ever, all club organised dinghy sessions will have safety boat cover and we will continue to offer all training at cost to our members, making it as affordable as possible.
From beginning of Spring details of all dinghy activities will begin to be published via club emails and listing on the DYC website's calendar so please keep your eyes out, as sessions often fill very quickly.
Junior Regatta Sailing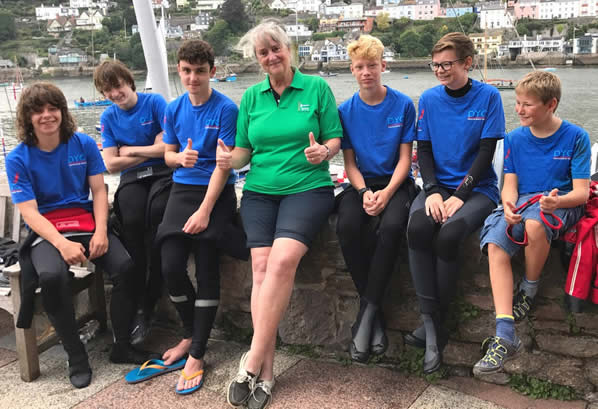 Our junior sailors at Regatta with Commodore Kate Brown. Photo and team shirts courtesy of Theresa Hart.
Sailors from left to right are - Ben Tonkin, Izak Hemings, Theo Hart, Miles Jones, Hope Jones and Harvey Tyrell.