Our Dinghy Sailing Team
Gareth Thorpe: Rear Commodore Sailing
Kate Brown: RYA Principal
Sue Thomas: Chief Dinghy Instructor
Supported by
Joe Wellerd: Senior Dinghy Instructor, Juniors
Christine Phillips: Club Dinghy Lead
Jason Elder: Boat Guardian
Any of the above can be contacted using the contact form.
Members' Sailing for 2019
Dinghy sailing at DYC has been a great success over the past few years and this year we're running even more RYA Adult training.
Last year's Sport England Award allowed investment in a new Ribeye Safety boat and dinghy road trailer means this season our Junior squad is bigger than ever. They love their Squad Shirts generously designed and donated by Cafe Alf Resco. The club is so grateful for Alf 's support to help get children out sailing.
Last year's success with Tuesday evening fun sails continues and the new this season are a series of Thursday evening instructed sessions, to support those wishing to return to the sport, gain more experience or help families sail together. All this means we are helping many more members to get out on the water.
The club's safety boat and dinghy fleet of 9 Toppers, 2 Laser Picos and 2 RS Visions are stored in Coronation Park for easy access to the higher slip. All are free for members to use, we just ask that you contact us to be added to the approved user list. We encourage families to take them out and sail together.
Remember :
Tuesday evening sails: where everyone with some sailing experience are welcome, whether to reacquaint, improve or sail just for fun. These sessions are free of charge and those interested should contact Paul Talbot by e-mail
prtalbot@btinternet.com
Or WhatsApp on 07510192169.
Thursday evening series: is instructor led and are for those wanting some additional support to get back to sailing or for further learning. We charge just £12 to cover instructor costs. Those interested should contact Stewart Taylor on
training@dartmouthyachtclub.co.uk.
There's an enthusiastic team involved with dinghy sailing but we are always looking for volunteers to help with a range of things from maintenance, co-ordination or just a pair of hands, If you'd like to be involved please contact us.
As ever, all club organised dinghy sessions will have safety boat cover and we will continue to offer all training at cost to our members, making it as affordable as possible. All dinghy activities are published via club emails and listed on the DYC website's calendar so please keep a look out, as training courses fill very quickly.
Our full 2019 dinghy programme can be accessed by clicking
here
.
If you'd like an more information just drop an email to Christine Phillips on
training@dartmouthyachtclub.co.uk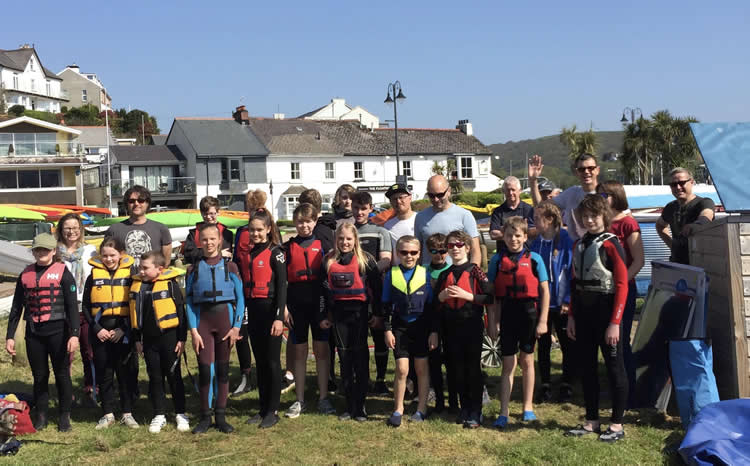 DYC Junior Sailing Squad 2019