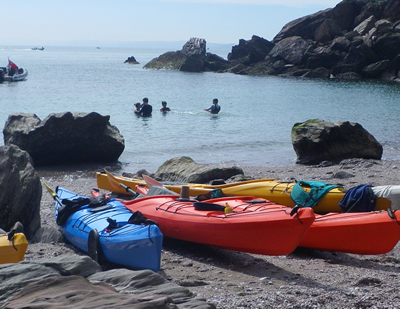 Programme Facebook Our fleet Why you should join Video Tides
Taster Sessions for visitors How to find us River Guide Sit on Top kayaks
Update Aug 5th:
Sit on Top paddlers can go out with up to 6 people in the group. Eg 3 couples together at the same time, the couples should keep 1m apart from other couples but they could have lunch together on a beach and paddle there and back as a group. Note that users normally need to supply their own B/Aids. If you have not used sit on tops before please note there are user instructions to read and a user form to sign, send an email to Tim F to obtain the necessary information.

Sea Kayak users may also go out in groups of up to 6. Two couples or three couples could go out as a group and have lunch on the same beach. The couples should keep 1m apart. We are able to teach new or recent joiners wanting to progress in sea kayaks and are doing this with ratios like 1 : 4. These sessions are free and if you would like to join one please ring Tim on 07792 620176 or send an email.
Paddleboards may be used by approved users. Normally to become an approved user you must do one lesson with the local SUP school called Paddleshack. For user instructions and forms please email Tim F.
Changing rooms:
The changing rooms at the club are not yet open and wont be opening on 4th July. For this reason most kayaking is being done in sea kayaks rather than those in the garage
01803 832663
For all kayaking enquiries please contact Tim Freeman timfreeman61@googlemail.com
phone number for contact 01803 832663
.