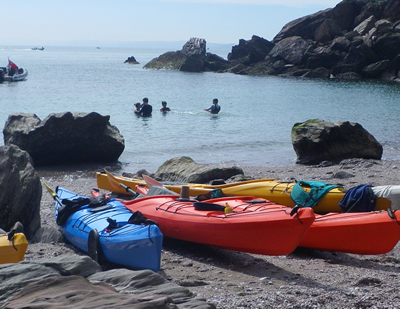 Programme Facebook Our fleet Why you should join Video Tides
Taster Sessions for visitors How to find us River Guide Sit on Top kayaks
Update Jan 5th 2021:

You can still use club sit on top kayaks, sea kayaks and paddleboards. You can paddle with others from your household or you can paddle as a group of 2 with those 2 being from different households. This applies until further notice. Note the changing rooms at the club are closed. For this reason most sit in kayaking is being done in sea kayaks kept in coronation park rather than the shorter kayaks in the clubhouse.
Paddle boards may be used but note if you are a new user you must first email Tim F and get the user instructions and user form. New users will need to have one lesson with the local SUP school Paddleshack unless they have significant prior experience. Sit on tops may be used if you are an approved user. To become an approved user email Tim F for the user information. Sea kayaks may only be used by those who have received significant training from the clubs leaders. If you are new to sea kayaking please email Tim F.

Buoyancy Aids - due to covid members must normally supply their own Buoyancy Aids at the moment. We recommend buying a yak or palm brand one by post from Kayaks and Paddles, look them up on google.
Always make sure you have a weather forecast and know the tides. You must take a towline, except for sit on tops where one is fitted already. Stay within your limits. Note that solo paddling beyond the castle is not permitted. Use the hand gel provided and stagger start times on busy days.
timfreeman61@googlemail.com
01803 832663
For all kayaking enquiries please contact Tim Freeman timfreeman61@googlemail.com
phone number for contact 01803 832663
.