For kayaking enquires please email Tim Freeman 01803 832663 timfreeman61@googlemail.com
Sit on Tops are simple and fun. A lot of people join DYC just to access our fleet of sit on tops. The other facilities on offer like motor boats and the bar are merely a bonus. From 1 May 2021 we are increasing our fleet of sit on tops to 20 from 15. We will have 6 doubles and 14 singles.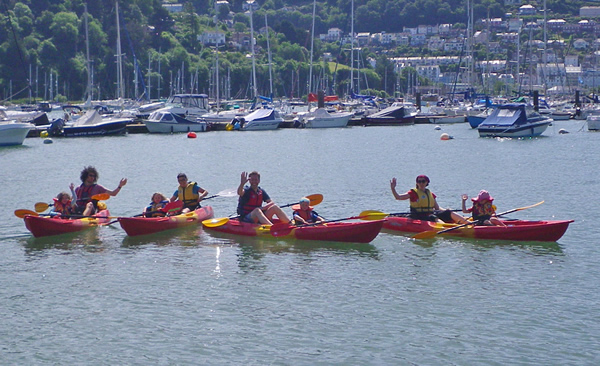 Children can be placed in the front of a double kayak so you can get the family afloat even with quite small children. This is a fantastic opportunity for families who can have fun all summer long. The sit on tops are also used by quite a lot of retired people - because they roll to the water on a built in wheel in the keel they are very easy to launch. A trip to Dittisham is a pleasure for all ages.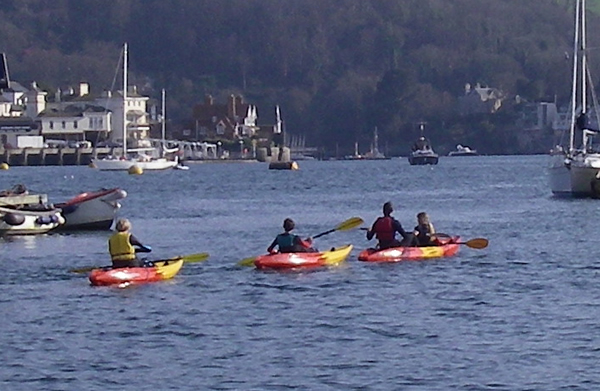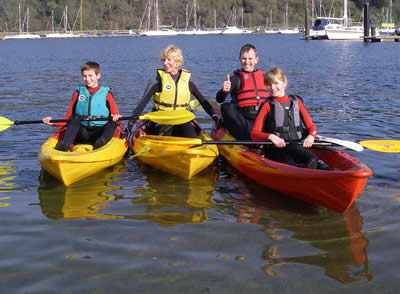 If you come to Dartmouth regularly, say to visit a relative or to use a second home, you can get lots of use out of a DYC membership. If you live locally this is an inexpensive way to get your whole family afloat.
We save you the hassle of owning, transporting and storing your own boats. You can buy your own sit on tops but loading them on and off a car and then finding a parking space is a lot of bother. Instead you could just walk down into town and use the club boats.
Our boats have an integral wheel in the keel which does not slow you down but allows the boat to be moved around easily. Kept in Coronation Park the boats can be rolled to and from the slipway by the higher ferry.
A sit on top is easy to paddle. There is no spray deck and you are not enclosed in a cockpit. If you want the simplest way to get on the water this is probably it. We can let you go off on your own more quickly with this type of craft than any other. We will help you choose calm times of the tide for your first paddles.
We have instructional videos to help you:
First you need to work out how to fit the seats
Sit on Top seat fixing and setting up the boat
We recommend towing to deal with a capsize or a tired group
member, see this clip
Others recommend you 'flip it over and climb back on'
Video of someone climbing back on to a sit on top
but that looks tricky unless you are fairly fit and flexible
If you are a member wanting to make an online booking for a sit on top please go to the page titled Members Pages
For a fun video of sit on top paddling made by member Becky see http://youtu.be/pWtLScIIpjk