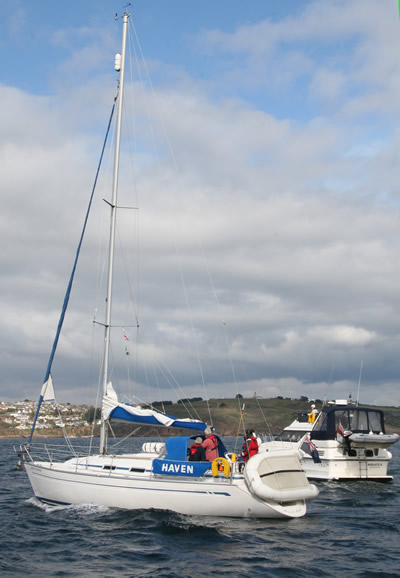 DYC
Cruising
in
Company
2018
Interested in cruising your yacht or motorboat in company during 2018?
Cruising together is a great way to visit new ports, gain confidence for a Channel crossing or just make some new friends. Whether you are new to this or an old hand there is always something to be gained from going away as a group.
Last year the club reintroduced a Cruising in Company Programme with visits to Torquay and Guernsey. A September trip to Salcombe had to be cancelled due to bad weather but we still manged a pleasant day sail and anchored off Hallsands for lunch. We would like to build on this in 2018.
Those of you who haven't cruised in company before will find us a relaxed and happy bunch with the emphasis on encouraging newcomers as well as having fun. Members are often looking for crew, so if you don't have a boat then there may still be opportunities to join in.
Following our meeting on 27th Februsry we have now put together a draft programme for 2018:
Shakedown Cruise - APRIL 28th – 29th
Brixham/Torquay
Late Spring Cruise - MAY 19th – 20th
Salcombe
First Summer Cruise - JUNE 15th – 17th (Beware the WO National Cruise 7th to 21st JUNE)
Plymouth Rivers Cruise
Day 1 Yealm
Day 2 Cawsands or Jennycliffe to anchor
Day 3 River Lynher – Dandy Hole
Main Summer Cruise - JULY 7th - ??
Roskoff/North Brittany
Late Summer Cruise - SEPT 7th – 10th
Guernsey
Club Day Sails - MONTHLY
Local Lunchtime Anchorages 2nd Wednesday every month
&/or Sat/Sun by agreement
Please Note
This draft programme is offered to members of the DYC who may wish to cruise in the company of other members during the coming season.

Destinations may need to be amended at last minute due to weather considerations

Subject to interest, dates may be amended with the agreement of those boats taking part

Additional dates/venues may be proposed subject to interest
I look forward to some great times afloat.
Tim Vaughan
Rear Commodore Sailing