Club Motorboats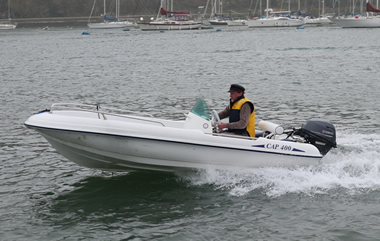 The club now has Doris, a new motorboat available for members to use on the river and for powerboat training as well as Sarah our safety boat.
It is very easy to borrow Doris (subject to availability), you just need to be a current member and on the clubs Approved User List, then book the boat through the bar. The bar staff will explain how to get the keys and the boat box etc. If phoning the bar to book, please avoid the busier times.
Doris (above) and Sarah (below, right).
Doris is moored on the DYC pontoon outside the club and Sarah on the DB pontoon opposite Coronation Park where our dinghies are stored. Both are walk ashore all tide moorings.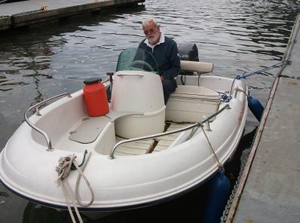 We would appreciate a £30 donation at the time of booking Doris or when picking up the key, this is to help cover the cost of fuel and some basic maintenance costs.
To be included on the Approved Users List members must hold RYA PB2 or be able to demonstrate equivalent experience. For members new to power boating the club runs courses enabling them to obtain the qualification.
Details on all of the above are available from the Bar or via our contact form.