For kayaking enquires please email Tim Freeman timfreeman61@googlemail.com 01803 832663
Find us:
Kayakers tend to meet at the rear of the club opposite Cafe Alf Resco, very near the Lower Ferry. The road is called Lower Street Post Code TQ6 9AN. Sat Navs may take you to the ferry in Kingswear if you are coming from the east - this is expensive and there may be queues so add in Totnes as a via point. Do use sat navs with care - if they try to take you down any very narrow roads in town ignore them.
Photo above is cafe Alf resco, photo below shows our meeting point opposite.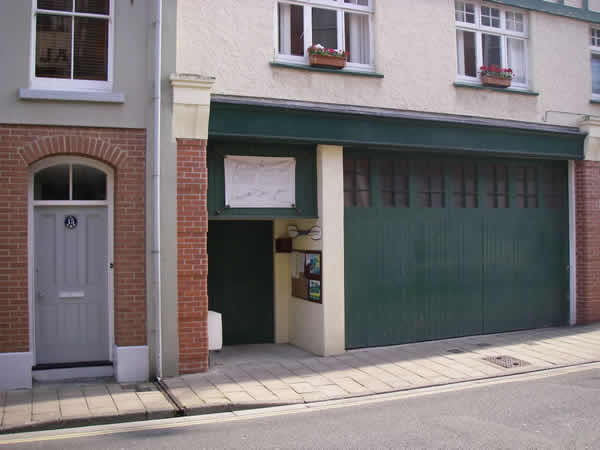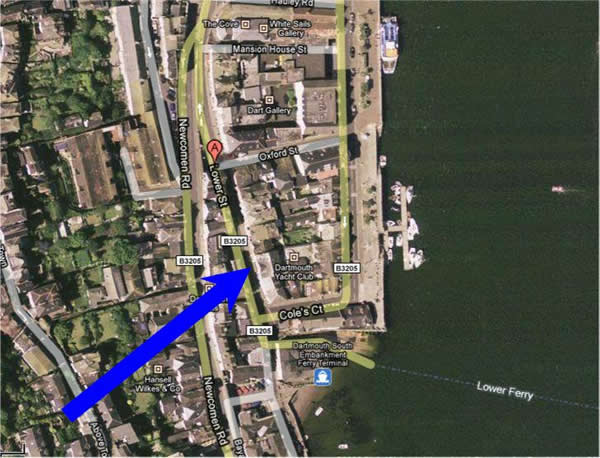 Blue arrow above shows our meeting point for taster sessions and group paddles.
Sketch below shows this also: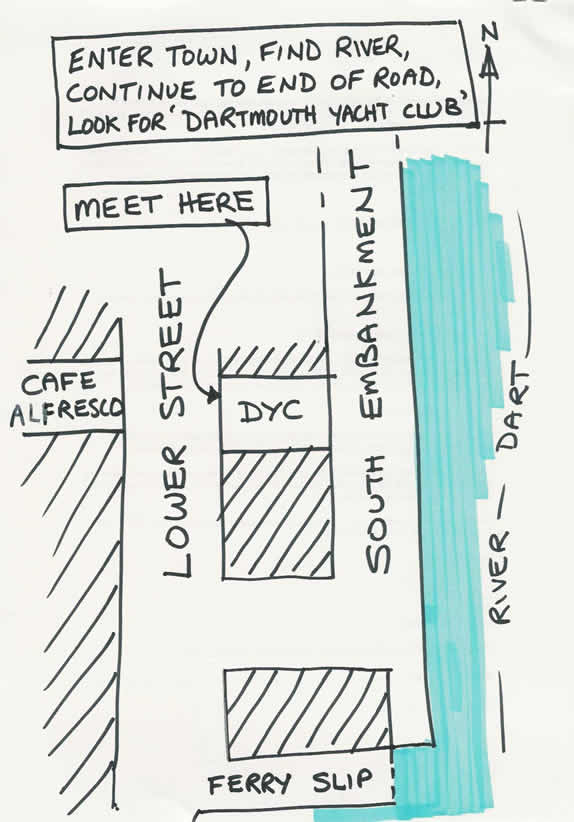 If coming to us for a taster session by car allow an extra hour at least for parking. Its best to avoid the ferries over the river which often have queues. Go first to Totnes and follow signs to Dartmouth from there.
The town carpark has a four hour maximum stay, and this is not enough usually for a taster session. It can just work however if you park there about half an hour before your paddle and then walk along to the club meeting point. We will normally take 3 hours to get changed, have our paddle and get changed again so you still have half an hour to get back to your car. However in summer the car park may be full so its not ideal. The town centre carpark is very well signed, if you trawl around town you will find it.
It is safest for taster sessions to use the 'Park and Ride' well signed at the entrance to the town so you are not working on a tight schedule. You can then explore the town before or after your paddle if you want. The park and ride has an efficient shuttle bus up and down the hill into town included in the cost.
On street parking often has a max 2 hour stay - this is never enough for a taster session or club paddle - and it is very hard to find a free space.
Castle Road . There is some free unlimited on road parking in Castle Road with a 15 mins walk to the town, see map below. Whan you get near to the castle the road forks, take the right option which goes uphill and there is quite a lot of on road parking.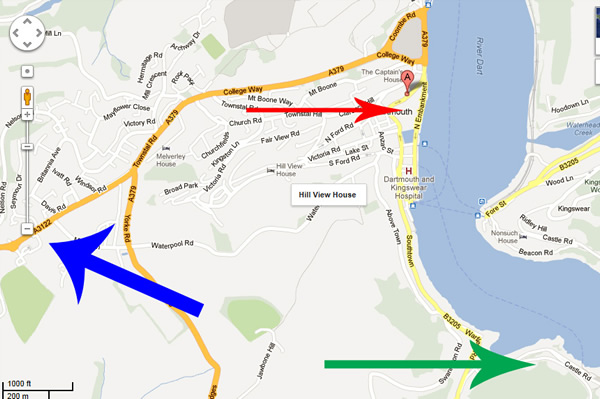 BLUE is the park and ride, a bus takes you down into town. The safest option.
RED is the town centre carpark, max 4 hours stay, may be full, only 5 mins walk from the club.
GREEN is Castle Road, there is some free parking on the upper of two roads with a 15 min walk to town centre. Its a pleasant walk. Maybe drop your passengers and any bags off in the town first, then one person parks the car and walks back.